Here are some new norns for C1. Some of these probably aren't mine, but it's been a long time since I was downloading C1 norns, so I'm not really sure which are mine and which aren't. So if you see a norn of yours here and you want it removed, please let me know.
To view the Trek Norns you need to download the sprites at: Creatures Shack
To view the Purple Mountain Norns you need to purchase the life kit at:

This is Anastasia. She's a very sweet norn and has given birth to many children. She is pregnant in this file.

This is Anya. She's a sweet little thing that loves to run around and smile at you.

This is Bailey. I just think he's adorable!

This is Corrine. She is part Trek Norn.

This is Charity. She's always ready to smile for you.

This is Buttercup. She is one of my favorite norns.

This is Enya. She is also one of my favorites.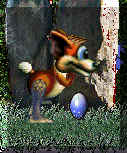 This is Diane. She's part Forest Norn, part Ron Norn. She is pregnant in this file, and gave birth to her egg when I imported her to take the picture.

This is Jason. He's very sweet and well behaved.

This is Kiara. She's not very bright, but she's sweet. And an excellent breeder.

This is Max. He's very festive!

This is Pongo. He's a mostly Santa Norn!

This is Tara. She's very sweet.

This is Tom. He's just taking a moment to warm his hands by the fire in Darwinia.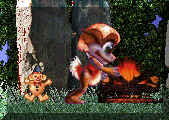 This is Violet. I think it's obvious how she got her name.

This is Wendy. As you can see, she's very happy.

This is Yoda. He was sent to me by a friend of mine, and I thought he was very cute.
Any questions or comments? Labyrinth@pacbell.net